REVIVE US IN CONCERT @ RIVERSIDE
Nov 10, 6 pm. Revive Us will be presenting a benefit concert at Riverside Adventist Church. Donations will be accepted benefiting Riverside's Meal of Hope program and the Community Closet clothing bank. Riverside Adventist Church is located at 463 N. Shepherd Rd in Washougal, Wash.
JAIME JORGE CHRISTMAS CONCERT
Dec. 5, 7 pm @ Vancouver SDA Church, 9711 NE St. Johns Road, Vancouver or Dec. 8, 5 pm @ Salem Central Adventist Church, 1330 Summer St. NE, Salem, OR. Join us for a free concert of inspirational, uplifting Christian Christmas music. Born in Cuba and raised in a communist country, Jaime has a passion for proclaiming the gospel through his music. His gift of musical interpretation brings new life and excitement to every song. You will be inspired by his music and blessed as he shares his testimony. Admission is free. An offering will be taken to support this ministry.
PVC'S HOME & HEART CHRISTMAS CONCERT
Dec. 8, 6 pm @ Pleasant Valley Church, 11125 SE 172nd Avenue, Happy Valley, OR 97086. Make plans now to immerse yourself in the spirit of the Christmas season with bluegrass & traditional songs performed by local artists. Refreshments to follow. All are invited to enjoy a time of down-home Christmas fellowship!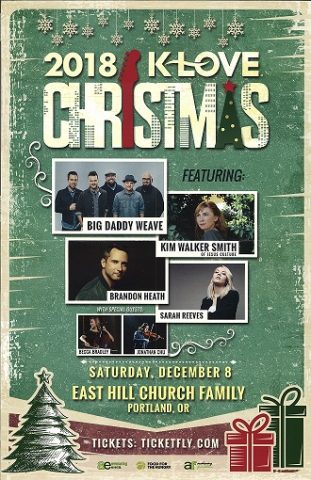 For More Info go to 
www.klove.com/events/christmas-tour/
pacs benefit concert
Dec. 21, 7 pm @ Healing Hope SDA Church, 15150 NE Glisan St. Featuring: Heather Moor. Any funds received/pledges will go to help Portland Adventist Community Services serve the underprivileged in our city.
37TH ANNUAL SUNNYSIDE CHRISTMAS VESPERS
Lloyd Wescott and the Sunnyside Seventh-day Adventist church will present our 37th annual Christmas vespers on Friday evening December 21 at 7:00 pm. Invite your friends and enjoy an evening of Christmas music presented by some of Portland's finest musicians. Bring your musical score and participate in the finale – Handel's Hallelujah Chorus from "Messiah". An offering will be received to support feeding Portland's homeless each Sunday morning in O'Bryant Square in downtown Portland. Refreshments will be served after the program.
104.5 WAY FM UPCOMING EVENTS
Check the concert schedule here
104.1 THE FISH CONCERT SCHEDULE
Check the concert schedule here